Tried and tested durability
The Port of Mostyn is located in North Wales on the south bank of the Dee estuary and has a RORO Terminal as well as being a key base for the offshore wind farm construction and servicing industry.
The Harbour Master, Captain Roy Hyde-Linaker, purchased their first Corilla Marine Buoy, an EM1500 in 1997 and that buoy is still in active service. Since 1997 a further 24 Corilla Marine Buoys have been put out to mark the approach channels into the port. The majority of these are EM2000 buoys, the first larger EM2400 buoy was deployed in 2011 and this sits proudly at the entrance to the Dee Estuary.
With the dredged approach channels being quite narrow, the buoys are positioned close to the channel boundary and hence are vulnerable to contact damage.  Over the years several of the Corilla Marine Buoys have been struck by various vessels using the channels particularly in adverse weather conditions.  On one occasion a large rig under tow went completely over the top of a buoy and although the buoy was seriously damaged it popped back up in position and the light was still flashing.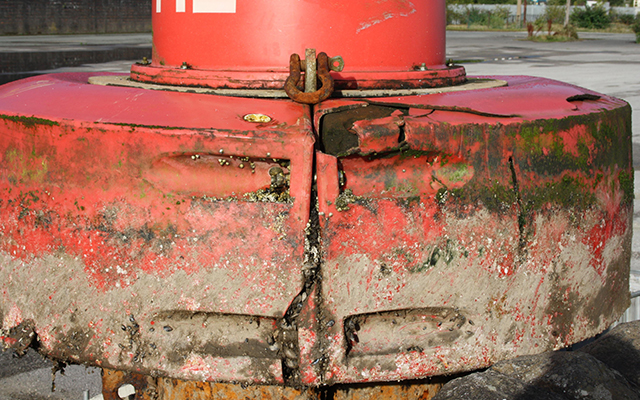 In most cases minor damage can be easily repaired by plastic welding, which has been carried out by the team at the Port of Mostyn on a number of occasions. In the case above where the buoy suffered severe damage it was beyond what could be realistically repaired by welding as the photograph shows. As all Corilla buoys are manufactured using Marine Grade Closed Cell Polyurethane Foam which is "hydrophobic" and repels water, it meant the buoy continued to stay afloat. This particular buoy was damaged over 2 years ago and has remained in active service. The port has recently purchased two new float collars in order to refurbish the buoy when maintenance is next due.  One of the many benefits of Corilla Marine Buoys is their modular construction which means parts can easily be replaced.
Captain Hyde-Linaker continues to select Corilla Marine Buoys as he believes they are "virtually indestructible", which suits his application at the Port of Mostyn, where there is a high probability that at some time in a buoys service life it will be struck and possibly experience damage.
The Corilla Marine buoys have stood up to these challenges over the last 15 years and are expected to continue to provide service for many more years to come.