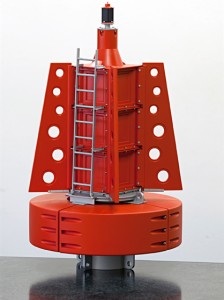 As a navigation buoy manufacturer, it's not always easy to demonstrate the flexibility that our buoy designs offer to end users.
After all, a navigation buoy can't be easily packed up to take to a meeting. Particularly when your products range from 2.5m to 7m tall and weigh up to 2.5 tonnes. You can't put it on the back seat of your car and drive away.
But as company with a proud thirty year heritage and an international target market, it's vital that we are able to demonstrate our products wherever in the world our clients happen to be.
To help make our products accessible to a global audience, we have invested in producing a range of 3D printed, 1/10 scale, working models of our buoys.
The models are built to be accurate to +/- 1mm tolerance and can be deconstructed and reconstructed in exactly the same way as our real buoys. We've already delivered the first model to one of our global distributors and more are on order.
Tom Fleming, Managing Director says: "As a navigation buoy manufacturer with a global market, we've been looking for a simple way to show the flexible, modular design of our buoys, without necessarily having to show a full size bouy.
"The advances in the quality of 3D printing means that we can now much more easily show a client anywhere in the world how our buoys can be configured for virtually any application."